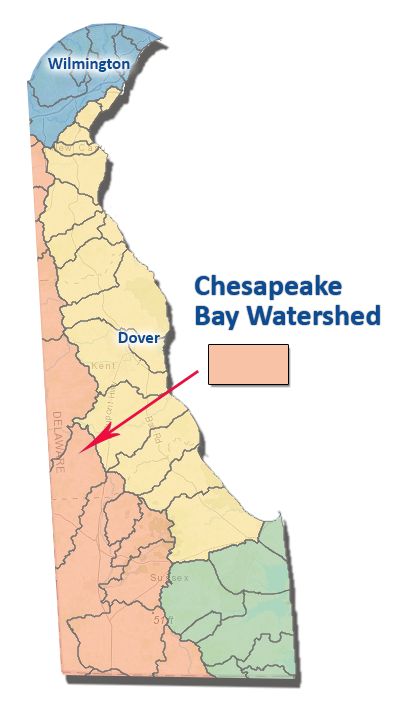 The Delaware Forest Service Urban and Community Forestry Program also offers tree planting grants specifically to applicants in the Chesapeake Bay Watershed. The Chesapeake Bay Watershed is the nation's largest estuary and a priority for conservation and restoration efforts. In Delaware, the Chesapeake Bay Basin incorporates 15 sub-watersheds located along the western part of the state.
You can find out if your property is located in the Chesapeake Bay Watershed by using the Find Your Watershed Address tool below and entering your address in the search box to the upper right. Click in the map area outside of the box and it will list the watershed and basin in which the the property is located. The orange and peach color indicates the Chesapeake Bay Watershed.
Requirements for Chesapeake Tree Planting Grants
Must be a municipality or certified 501(c)(3) organization based in the State of Delaware. Common types include nonprofit religious, educational, charitable, scientific, or literary organizations.
Must own land located in the Chesapeake Bay Watershed with a parcel registered in your organization's name that appears on your county's tax parcel list (must provide parcel number).
Must provide a 50-50 cost-share match in either cash or in-kind services. Sufficient volunteer hours for planning, organizing, and carrying out the project can meet this requirement without a need for cash.
Be sure to check if your location is in the Chesapeake Bay Watershed by using the "Find Your Watershed Address" tool below.

Benefits of Chesapeake Planting Grants
Grants can be a no-cost or low-cost way to beautify and enhance your community or your organization's campus and grounds
Tree planting projects can bring your community or organization together to benefit the environment
Technical Assistance
Delaware Forest Service staff can offer assistance at every stage of the tree-planting project:
Meet with applicants to discuss their project
Identify a suitable site for the tree planting
Select the best species for the particular location
Help calculate volunteer hours and services for match to reduce project costs
Schedule a planting day
How to Apply
If you think your town, church, or organization would benefit from a Chesapeake Bay Tree Planting Grant and you can meet the grant requirements for a 50-50 cost match (can be met by volunteer hours at no cost to your community or organization), then you are invited to contact the Delaware Forest Service Urban and Community Forestry Program.